Work Bridgeable
Unlocking shared mobility in the GTHA
Problem
How to develop shared mobility service concepts effective in converting single-occupancy drivers to transit customers
Solution
Identifying systemic, emotional, and behavioral barriers to transit use and co-creating solutions to overcome them
Impact
A set of integrated service concepts intended to help MaRS, the world's largest urban innovation hub, guide the development of shared mobility pilots in Ontario's Greater Toronto Hamilton Area (GTHA)
Adapting to a new transit ecosystem
Our client, MaRS Data Catalyst—a data innovation hub whose mission is to act as a trusted and neutral third party that connects people and data—sought to identify, design, implement, and scale transportation solutions that address specific challenges within a 4-year period. This project was part of the MaRS Urban Mobility Project, which brings together transit agencies, government actors, and private enterprises to create a transit ecosystem that decreases congestion and greenhouse gas emissions through the adoption of shared mobility solutions.
Solving the "first mile, last mile" problem
MaRS engaged Bridgeable to develop shared mobility service concepts effective in converting single-occupancy drivers to transit customers. This meant making sense of a complex ecosystem and understanding how commuters move around it, finding ways to replace competitive disruption with supportive integration, and assessing the role of new technologies.
Our challenge was to explore how shared mobility could improve the transit journeys of suburban commuters from Vaughan, Ontario, travelling to downtown Toronto. Bridgeable spent 70+ hours in the field with 80+ commuters to research and co-create solutions that solve the "first mile, last mile" problem.
Making sense of a complex ecosystem
We reviewed the existing grey literature on shared mobility in the GTHA and other North American cities to set the stage for understanding the commuting contexts of GTHA residents. This helped us gain a clear understanding of the tension between new technologies and traditional transportation services.
We followed this up with ethnographic ride-along interviews, following drivers and transit users on their regular commutes in order to understand their struggles and the constraints that influence their commuting decisions. Through this process, we were able to record insights relating to their commuting experiences and contexts.
To supplement the ride-along interviews, we also equipped commuters with structured workbooks so that they could record their commuting insights over the course of one week. This gave us a window into private experiences that we wouldn't otherwise be able to observe.
Finally, we invited commuters to participate in a learning lab—an interactive activity in which they could discuss their experiences and assess how various transportation solutions might benefit them. This learning lab allowed us to select opportunity areas where design interventions would have maximum impact. We discovered major barriers within private and public systems, regulatory systems, and legacy systems, such as lack of communication, reactive policy, inconsistent regulation, and limited reach and scalability.
We mapped the experiences of our research participants from their doors to their desks and identified pivotal points in the user journey that represented opportunities to significantly improve the commuting experience. For example, the bus is currently the only shared first-mile option, and there is a lack of perceived control when using transit. We also found that a lack of mobility options between home and the GO station forced commuters into stressful driving and parking situations. 
From pain points to opportunity areas
Over the course of our research with commuters, we captured emotional and behavioural barriers to transit use. We mapped these barriers onto their journeys from their homes to their offices and discovered two pain points that represented the most significant barriers to transit use and the highest-impact opportunities for mode shift:
Alternative first mile, last mile options: We saw an opportunity to shift commuters from feeling tied to driving due to the lack of reliable options and frustrated by GO parking to feeling confident that shared mobility options would get them to their trains on time while avoiding parking entirely.
Making informed decisions: We saw an opportunity to shift commuters from feeling uncertain about first mile, last mile mobility options and navigating delays to understanding their options and feeling confident and in control of next steps, even when delays occur.
Rules for shared mobility services
Leveraging our research and building on our opportunity areas, we created a set of rules that can help guide the design of any type of shared mobility service.
The key insight was that users who have multimodal journeys think about their trips as single experiences, not the sum of smaller experiences with individual mobility services. When users experience delays or frustrations at any point in their trip, it reflects poorly on their entire experience, including every mobility service they use. Any successful solution must align multiple stakeholders around providing a seamless, door-to-door trip.
To bring this to life, we designed videos, mobile apps, and service card prototypes that provide a clear vision for how service design concepts could look and function. 
A system map visualized how commuters would interact with our proposed service concepts throughout their multimodal commutes: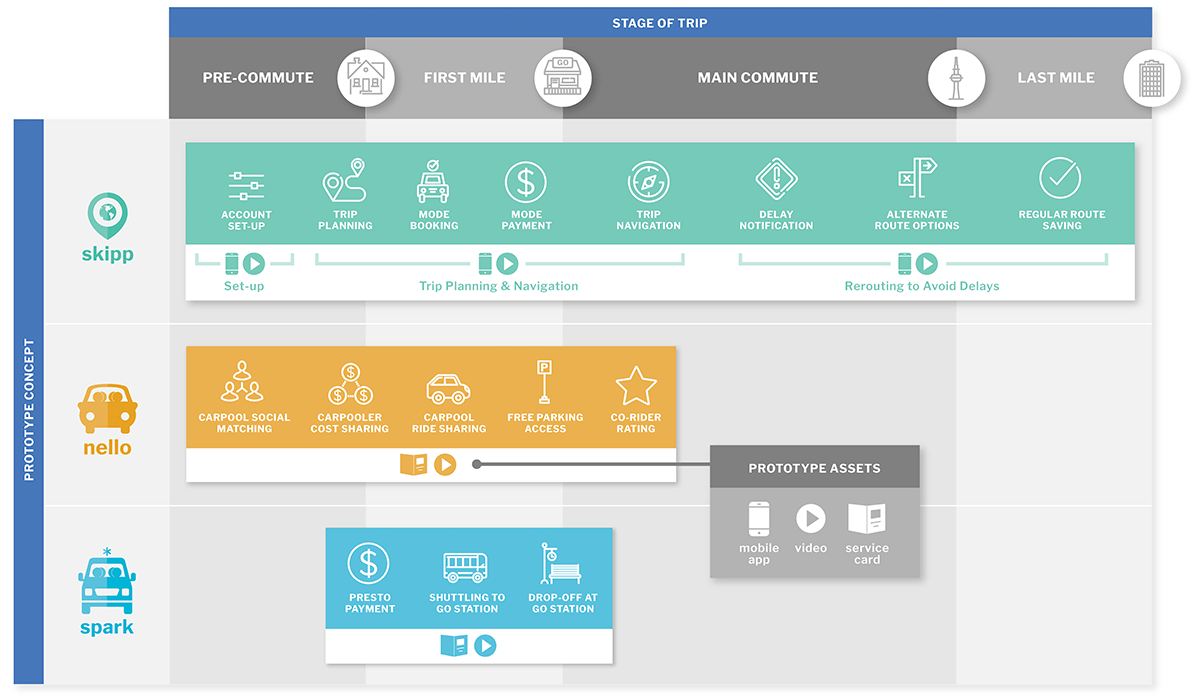 GTHA residents who live within a five-minute walk of rapid transit
12%
Service prototypes tested
4
Our service prototypes included Skipp, Nello, and Spark:
Skipp 
Skipp is a transportation app that is integrated with a wide variety of existing transportation services in the GTHA. Skipp guides commuters through multi-modal routes and provides smart alternatives in the case of delays.
Skipp features include:
Built-in filters that show commuters the fastest, cheapest, and healthiest routes to simplify their decision-making
Ability to order other transit services through the app (e.g., Uber)
Proactive delay notifications with alternative route recommendations
Calculations of the true financial costs of driving that take into account fuel, depreciation, and maintenance
Nello
Nello is a social transportation network that connects GO train commuters with other GO riders so they can carpool to GO stations together for less than the cost of monthly parking. 
Nello features include:
Visibility into drivers' information (insurance, driving records, reviews, etc.)
A wallet system that makes it easy to drive or to ride and incentivizes switching between the two
A guaranteed ride home system in case a vehicle isn't available
Spark
Spark is a reliable shuttle service that gets commuters to and from GO stations for less than the monthly cost of parking.
Spark features include:
Crowdsourced routes that are designed based on where existing GO riders live
PRESTO integration to build trust with a well-known contact-less card system brand and make payment seamless
Shuttle schedules that are aligned with GO train timing to ensure waiting times are minimized
The future of transportation in the GTHA
These integrated service concepts, including videos, a trio of mobile apps, and service card prototypes, as well as an in-depth guidebook that acts as a survival manual for understanding commuter needs and designing shared mobility solutions, provide a clear implementation vision for guiding the development of shared mobility pilots in Ontario's Greater Toronto Hamilton Area. Our work is supporting MaRS as they actively engage partners and look to work across different levels of government to implement prototypes on the ground. 
Looking into the future of mobility
Distilling insights gathered during this project, Bridgeable published The Future of Mobility, a free eBook that features our top recommendations for building an integrated and human-centered mobility ecosystem, an overview of potential futures for transit, a case for how service design can help solve the problem of shared mobility, key learnings from people who interact with transit services every day, and a Q & A with experts in the fields of service design and shared mobility.