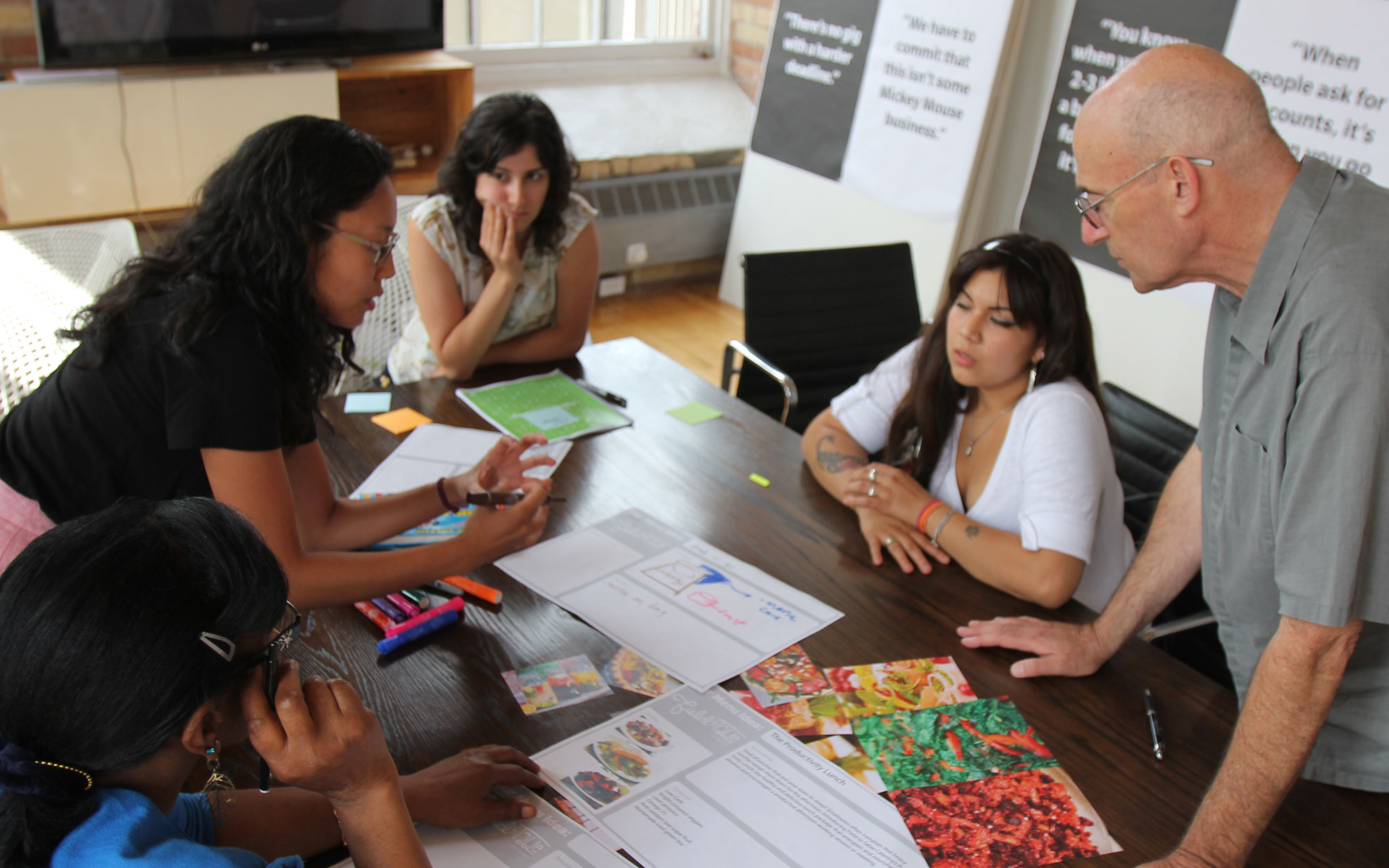 The Bridgeable Designership Program
The Designership Program
The Bridgeable Designership is one of Canada's only service design internship programs. It gives us the opportunity to both teach and learn from bright minds and to work on projects with real social impact.
The 2020 Summer Designership application process is now open. Details about how to apply for the 2020 Summer Designership program are posted on our career page under the Designership – Summer intern job posting.
Real Projects, Real Impact
The Designership is a paid, full-time internship at Bridgeable's office in Toronto, Ontario. If selected, you'll be part of a multidisciplinary team dedicated to working on a project with real social impact—under the direction of an experienced member of Bridgeable's leadership team. The internship starts in May and finishes in late August.
The Roles
Three-stage application process
1. Application submission
We'll review your materials and put together a long list of qualified applicants.
2. Video interview
If you've made the long list, we'll contact you to film a very short (10–15 minute) video interview. After the long list interviews are complete, we'll put together a short list of qualified candidates.
3. In-person Presentation
Selected candidates will be sent a mock assignment and asked to present their response to a panel of 4 to 5 Bridgeable team members. Following your brief 10-minute presentation, we'll ask questions about your response and questions designed to get to know you better.
Frequently Asked Questions
Can I apply?
You don't need to be a trained designer, and there aren't specific tools that you need to be familiar with. Instead, we look for people who are tenacious, self-directed, and thoughtful in how they frame problems and arrive at solutions. In the past, we've had interns whose backgrounds include public health, urban planning, sociology, and film. We love to be blown away by an amazing application coming from an unexpected background. You must be eligible to work in Canada.
Will I be paid?
You'll be paid a weekly salary based on your education level and experience. We also offer a small travel stipend to those relocating to Toronto for the summer.
What will I learn?
Guided by a team of experienced Bridgeable team members (aka Bridgers), the summer kicks off with an intensive service design boot camp where you'll learn about:
Design research (including interviews, ethnography, and literature review)
Co-design
Service design
Systems thinking
Prototyping
Project management
Managing client relationships
What will it feel like?
The Designership is a lot of hard work, but it's definitely fun, definitely exciting, and a whole lot cooler than most other internships (at least, that's what we think). Here are a few of our favourite things about Bridgeable:
We're passionate about our craft and love helping each other level up.
We share our work early and often (get ready to iterate!).
We offer monthly improv classes to help you become a better facilitator and presenter.
We have lots of free healthy snacks (hope you enjoy yogurt as much as we do).
Application Tips
Design your application for readability. Even if you're not a designer, think about how you can make it easy and pleasant for us to read your application.
Follow the application instructions carefully. If you don't submit all four components, we won't consider your application.
Tell your story. Hearing your genuine voice is a great way for us to know if you're a fit or not.
Pay attention to the details. An application with no typos or errors suggests an attention to detail that you'll bring to your work as well.
In your resume, focus on relevant experience and try to give us a sense of your skill set.
Write a cover letter that's focused and gives us a clear sense of who you are and why you want to work with us. This will go a long way.
In your mission statement distill your approach to the world into a single, clear statement. This is a crucial piece of the application.
Don't forget to include a portfolio in your application.
The Designership helped me to translate my academic training as a researcher into a service design context and set me up for success in my early career. I got to work on a challenging and interesting real-world problem with very involved support and mentorship from senior Bridgeable Staff.

Tim MacLeod
Designership 2016

During the Designership, I spent 16 weeks learning the ins and outs of service design by working on a fast-paced real-world project in the public transit sector. I developed and strengthened my skills in design research, synthesis, and prototyping, and collaborated with a brilliant team of fellow interns who quickly became my good friends.

Danielle Sheahan
Designership 2017